The Endless Yard Sale
Rain or Shine, July 14-16, 2023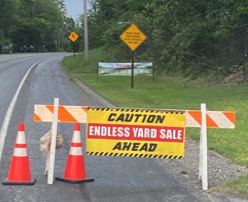 The Endless Yard Sale is one of the most anticipated events of our region! Thousands of treasure seekers have made Orrington the best place in the State of Maine to find the most incredible bargains! If you are planning a yard sale this summer, wait until the weekend of July 14-16 to hold it.
There is no permit required. Free 11" x 17" Yard Sale signs (limit 2 per home) and 8 1/2" x 11" No Parking signs (to make sure the road way is clear) will be available at the Public Library and Town Hall after July 1. Your address will be noted on the special map noting the locations of all the yard sales. These coveted maps will be distributed locally and posted online starting July 13 at: OrringtonOldHomeWeek.com andfacebook.com/OrringtonOldHomeWeek.
To register your yard sale. email your name, street address, contact info and your Yard Sale dates and times to: endlessyardsale@orringtonoldhomeweek.com or fill out the form below & mail to: Sue Pate, 72 Hatfield Road, Orrington, ME 04474.
REGISTRATION DEADLINE: TUESDAY, JULY 11, 2023  
Pick up these Yard Sale Signs after July 1 from the Orrington Public Library and Orrington Town Hall
Click on the form below to download and print and email to endlessyardsale@orringtonoldhomeweek.com or snail mail to Sue Pate, 72 Hatfield Road, Orrington, ME 04474